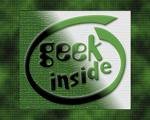 Geek Channel by
demon_ix


The word geek has recently come to be used to refer to a person who is fascinated by knowledge and imagination, usually electronic or virtual in nature. The Merriam-Webster dictionary defines the word geek as "1: a carnival performer often billed as a wild man whose act usually includes biting the head off a live chicken, bat or snake 2: a person often of an intellectual bent who is disliked 3: an enthusiast or expert especially in a technological field or activity".
---
Top Videos from the Last 24 Hours
---
Sorry, but we couldn't find any records to display for this listing.
Use the navigation menu above to figure out where to go from here, or...